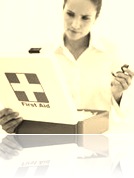 Having a well prepared first aid box within your reach is a great help in emergencies. You've got to stock up one at home, in your car and whenever you are travelling to distant places. A first aid box helps a great deal even before the doctor comes up.
There are many first aid kits available at medical stores too. Alternatively you can make up one according to your own wish list. In such a case you can opt for making a big first aid box that has all the solutions to all injuries, wounds are similar problems that could require immediate attention.
There are a few must haves in your first aid box that must never be missed out. They are-
Sterile gauze pads of all sizes

Elastic bandage

Adhesive bandage

Antiseptic wipes

Antiseptic hand wash or soap

Antiseptic solution

Splint

Acetaminophen and ibuprofen

Antiseptic cream

Scissors

Tweezers

Safety pins

Latex gloves

Mouthpiece for examining

 

Emergency phone numbers' list

Mild painkiller medicine

Painkilling ointment

Common cold and fever medications that suit your needs

Medicated cotton ball

Thermometer

If possible, a blanket

Crepe bandage

Calamine lotion

Disposable cold packs

Torch light with extra batteries

Alcohol wipes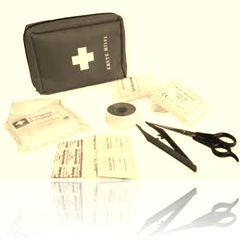 These are some things that your first aid box must have without fail. Among the other things that you must keep in mind is the storage area for the first aid kit. It must be stored in a cool and dry place. This kit must not be within the reach of kids and pets, if any. Your first aid kit must be kept within your immediate reach in emergencies.
After you've attended to the patient in emergencies it is important to call the doctor for further diagnosis to avoid any complications. In case your first aid kit doesn't help in the emergency, it is important to rush the patient to the doctor.
In case of minor injuries, wounds or illness the first aid kit would suffice. If any of the family members is suffering from a long term illness and you are planning a vacation, you must never forget to carry all the necessary medicines with the first aid box. It is also important to carry all the necessary things that might be required in case of an emergency with that patient on the vacation. For this consultation with the doctor in advance is advised.
The most important thing is to be careful with yourselves and children to avoid medical emergencies as it has been well said 'Prevention is better than cure'.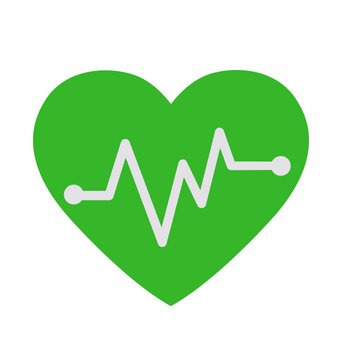 Lifebing is driven by an unrelenting passion for promoting health and well-being, our team is wholly committed to curating exceptional content and immersive experiences.