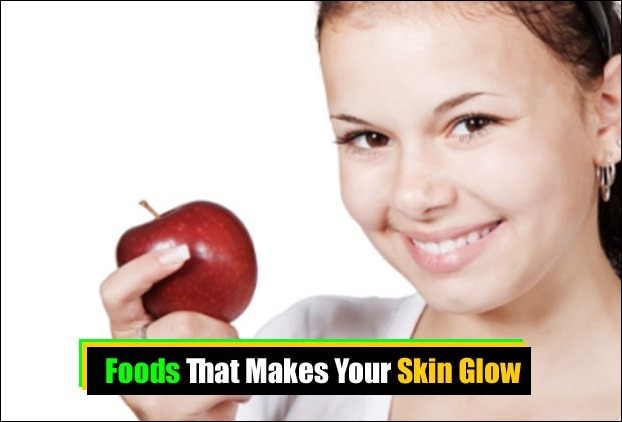 Glowing and beautiful skin is the ultimate dream of every girl since time unknown.We love our look and tend to not do much the days our skin is glowing.
But then there is the sun and the pollution and a list of other factors that harm skin's youthfulness way too much. In order to bring this to halt we have to incorporate some healthy habits. Lets start with eating right.
Here's a ready list of all foods for glowing skin that you will need:-
Super Foods That Make your skin glow !
Yoghurt
this is one of the foods that you eat and think well it's too delicious to be incorporated in healthy skin diet. Little do some of us know it is packed with calcium and protein, that does an awesome job to the belly and in turn is reflected on the skin.
The face lightens and brightens when your system finds yoghurt in you. Further Yoghurt is also rich in Vitamin A, on which depends the cell regeneration process of our body.
Yoghurt is also  rich in Acilophilus, a "live" bacteria that is said to be essential for intestinal health. A healthy intestine is always reflected by beautiful skin. Isn't it here that your search ends to the question of how to get glowing skin?
Green tea
If you have decided to go on a diet for glowing skin incorporating green tea is a must. They have protective effects against free radicals which are in turn responsible for being the ageing properties for our skin.
One cup of green tea a day will help you look a lot better over the time of the year.
Green tea also helps in blocking sun damage. The free radicals put down the damage done by the sun by reducing the inflammation caused. Wrinkles and skin sagging are also reduced to a great extent by the free radicals produced by the green tea.
Dark chocolate
A variety of antioxidants present in dark chocolates helps keep you skin soft supple and juvenile for longer. Dark cholocate is also a food good for skin for it contains a lot of sun protection properties. It prevents sunburns by shielding the skin against the harmful UV rays.
An excellent food for glowing skin it detoxifies skin removing the dead cells and allowing new skin to breathe. Smooth problem-free complexion complimented with moist and well-nourished skin is another reason this is considered good food for skin.
Wait , thats not all. Stress is a beauty bummer. Dark chocolate helps relieves stress thus winning the crown for being the best food for skin. Still wanna give up on it?
Aloe vera juice
This is another miraculous food for glowing skin. Well the goodness of aloe vera is way too good if consumed too. The benefits can be countless:-
The gel-like substance absorbs all the toxins from your gastrointestinal tract, thus they are henceforth stopped from entering your body.
Aloe vera juice consumption is also a good food for healthy skin for it can ramp up our immunity with polysaccharides. This property fights against all diseases and keeps you healthy. Also the anti-oxidants present helps reduce the amount of free-radicals within the body thereby stopping the effects of ageing.
The juice of aloe vera also helps fights inflammation. It contains over 12 elements that can help you fight inflammation.
A vitamin and mineral cornucopia, aloe vera juice contains twenty different minerals and 8 essential amino acids. Overall all that your skin needs to look beautiful is present right here. Look no further.
Aloe vera juice drinkers have also been found to be more hydrated. Besides, it gives your body the building blocks that helps in replenishing old cells and rejuvenating new ones.
With the internal supply of vitamins and minerals, this healthy skin diet reduces inflammation, while fighting bacteria and other infection. Acne and blemishes thus can be bid goodbye with this awesome food for glowing skin.
List of Fruits Good for Skin:-
Banana—bananas are natural moisturisers. They benefit our skin in more than one ways.Whatever, be the skin type—dry, ageing or acne-prone banana has a solution for all your problems.A radiant glow and firmer skin is all but natural to the skin that you get as a result. Mix it with honey to get a smooth feel.
Apply the mask on your face and leave it on 5 minutes. Wash off with warm water. Soft supple and moisturised skin in ready.
Orange — The Vitamin C used in the orange is essentially a beneficial factor for the glow caused in skin. To add orange as a diet to healthy skin extract the juice of one fruity and add it to two tablespoon of yoghurt cream. Or you can mash two slices of orange and add it to the yoghurt cream.
Using it as a cream at bedtime can give amazing results. For better results add orange peel powder or lemon peel powder to it. This cream is one of the best foods for glowing skin.
Blueberry—Blueberry is another food for glowing skin that just cannot be overlooked. Rich in antioxidants blueberries can be used in face packs to get amazing results.
Make a scrub of combining 2 cups brown sugar, 2 teaspoons puréed blueberries, and 3 tablespoons lemon juice and use it on your face at regular intervals for clear glowing skin.
Flaxseed—Flaxseeds are a great source of Omega 3 Fatty acids and anti-inflammatory index. Redness, skin irritation and inflammation are reduced to a great extent by the consumption of flax seeds.
They are also known to increase the speed at which your body heals wounds. Rosacea and acne are problems that can be well forgotten by the incorporation of the food for glowing skin in your diet.
Papaya—Papaya has always been a favourite among all women who are regularly on the seek-out of diets for glowing skin.
A rich source of vitamins and anti-oxidants papaya is known to benefit with regular consumption. Additionally, it can also be incorporated in facial masks to treat skin form the outside:-
Papaya honey mask- -papaya Contains Vitamin A and this helps in nourishing your skin, along with the removal of all the dead cells. To make a pack, mash half a papaya and mix it with three spoons of honey to make a smooth paste. Leave it on for 20 minutes and then rinse off. You get nourished clear skin.
To get rid of acne mash half a papaya thoroughly and apply it to your face for half an hour. Wash it off and watch the blemishes vanish.
Lemon— Lemon has been long considered one of the best foods for glowing skin. It applications are numerous. Lemon is to be found on almost all pages that relate to beauty or face packs. It is the best natural exfoliator available.
High in Vitamin C and antioxidants, lemons are known to be great in treating sunburns. They are also known to be amazing dead cell and blackhead remover. No wonder the internet is flooded with pages that mention how lemons can prove to be amazingly good food for skin.
Tomatoes— Rich in anti-oxidants, consumption of this food is good for skin. Consumption of tomatoes is also great for developing a sun resistance shield within your body.
Additionally , the usage of tomatoes in face packs gives you clear glowing skin. Tomatoes if used with avocado as a face pack, can give you supple glowing skin.
Walnuts—Walnuts are food that are good for skin. Packed with Vitamin B they lower the levels of stress thus giving you better and glowing skin.
The presence of Vitamin B along with Vitamin E further goes on to make a natural antioxidant, thus crowning it as one of the foods for glowing skin. Consumption of Walnuts in their raw form on a regular basis is the best means to get better results.
How to use walnuts for glowing skin?
Reap the benefits of walnuts by preparing an easy face pack at home.
Add 4 walnuts, 2 teaspoons oats, 1 teaspoon honey, 1 teaspoon cream, and 4 drops of olive oil in a blender
Blend well to make a smooth paste.
Apply it on your face and let it dry completely.
Wash with warm water, while massaging in a circular fashion.
This face mask is a great way to keep the facial skin moisturized and delay the onset of wrinkles.
Archie Jha is a holistic nutritionist, beauty and wellness expert with more than a decade experience.She like to share her knowledge through her blog posts.