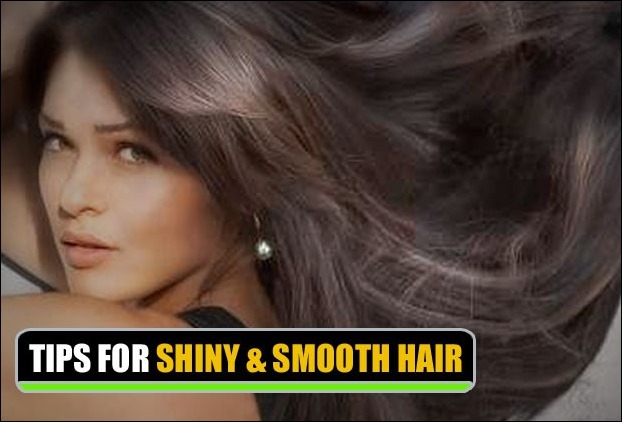 Smooth and soft hair every single day, is a need that almost every girl faces from time to time. Brittle, dry and unmanageable are the bad hair days.
Flaunting those shiny and lovely hairs is a trend every girl want to set for herself.
And if you are one of those girls, this article can guide you right through the days of bad hair, to the days of awesome beautiful hair.
Tips to Making Hair Shiny And Smooth
Use a shampoo that suits your hair
A shampoo is meant to cleanse your hair and make it softer and smoother. It is supposed to make your hair smoother and not coarse. In case it is making your hair coarse and dry, it is time you look deeply into the matter. Change the shampoo. But if you are sure of your shampoo, look deeply into your hair care regime. It is basically best to choose an herbal shampoo at this stage.
Use cold water
Another reason why most of us face hair problems is the use of warm water. Never try to use warm water for your hairs as it does nothing other than damaging it further. Room temperature to cold water is best suited for the scalp.
Comb carefully
Never touch a comb onto wet hair. Wet hair is sensitive and can break off pretty easy. One must never take the chance of combing right through the wet hairs. Let it dry and then comb it. Also comb your hairs with a large and spaced comb makes it easier.
Comb your hairs from the bottom to the top. This can be time consuming, but it makes your hair less frizzy. Additionally it causes less damage and breakage.
Conditioners
The best conditioners are the leave-in conditioners. They smoothen your texture and help you with softer and frizz free hairs. Another secret to good conditioning is to leave some of the conditioner behind. This helps seal the outer pores, making it look healthy on the outer surface. A deep conditioning is the best treatment to smoother beautiful hair.
Stop heating
Instant hair styling techniques which include curling rod, straightener and perming rod can be the instant solutions to hair styling, but regular usage can harm your hairs in irreparable ways. They steal away the natural sheen from your hair making it further coarse and frizzy.
In case you have to use these products daily, use a heat protective serum onto your hair before styling. This will take the damage down by a few notches. But the ultimate way would be to start loving your natural curls.
Refined blow drying techniques.
When blow drying your hair, put the device on the cool mode, this helps put down damage by a lot. Make sure the dryer is of good quality and a ceramic base with a big toothed round brush.
bid the chemicals goodbye
Sodium Lauryl Sulphate and Ammonium Laureth Sulphate are compounds that will harm your hair to irreparable situations. Make sure the products you are using for your hair are devoid of these products.They are the main reasons behind your coarse hair and hair fall. It is always better to use products that lock in the moisture making your hair soft and smooth.
Trim your hairs
Split ends can make your hairs look brittle. They are a sign of dull, damaged and dry hair. Make sure you trim your split ends every 4-6 weeks in order for smooth and silky hair.
Mayonnaise Mask
Take one cup of mayonnaise and add two teaspoon of avocado (grounded and made a paste) to it. It will make a fluffy paste. Now apply it to your hair from the roots, mostly at parts where the damage is at the most. Put on a shower cap and leave it on for an hour. Rinse off with shampoo. This is the best solution to at home soft and smooths hair.
Aloe Vera Gel
Aloe Vera is another ingredient that works miracles for your hair. It is enriched with Keratin, a protein essential for hair that penetrates easily into the hair strands providing the much-needed moisturization and building up your hair. Use fresh aloe era gel on your hairs for about 30 minutes before shampoo to achieve best results.
EGG Pack
Now, it has been a centuries old concept that an egg pack works wonders for any type of hair to make it beautiful and lustrous. The high content of proteins and nutrients provides your hair the much needed shine and bounce, essential for the texture and body of your hair strands. Take an egg, beat it and add one teaspoon of honey, olive oil and cream to it. Blend it to make a smooth paste and apply it to all of your hair. Let it dry. Rinse well with cold water and shampoo afterwards.
Banana Pack
Glucose, sucrose and fructose are found in very high quantities in the fruit called banana. Regular use of a banana pack provides your hair the much needed nourishment, preventing dry hair, itchy and flaky scalp. The benefits of banana pack can be further enhanced by the incorporation of yoghurt. This is also a great hair moisturiser that smoothens the hair strands.
To make a pack, Mash one ripe banana and add one teaspoon of yoghurt to it. The banana must have exactly no chunks left. Apply this on your hair from roots to the tips. Leave it on for about 45 minutes and then rinse off with cold water. Shampoo as usual.
Natural rinse
Apple Cider Vinegar has been used since ages to rinse off hair of all its impurities and chemicals. It is now considered to be a natural rinse for hair. The natural PH balance of your hair is maintained at its best by this ingredient, closing the cuticles of your hair. This ultimately leads to softer, shinier and smoother hair. To make a conditioner out of this, dilute ¼ cup of the vinegar in one cup of water. Pour it on your hair after the wash. It is a leave-in conditioner.
Massaging
Massaging your hair once in a week, helps lock in the natural balance of your hairs. Massaging helps distress you, thus adding life to your hairs. Take any oil that you like, the fragrance of which invigorates you, and use it to massage your scalp. Post massage wrap your head with a towel, and leave it on for 20 minutes. Wash as usual. The wrapping of the towel does not let the heat escape, while making sure it penetrates your pores.
So girls these are some of the ways to get naturally smooth and bouncy hairs.
Try these super effective ways to get your mane the natural proteins and vitamins, and watch it bounce like a basketball, even on days that you do not wash your hairs.
After all you hairs provide you the extra quota on the beauty quotient and it is not to be missed. As goes the old Go natural, Stay beautiful.
Love your hairs, and watch them spread your love!